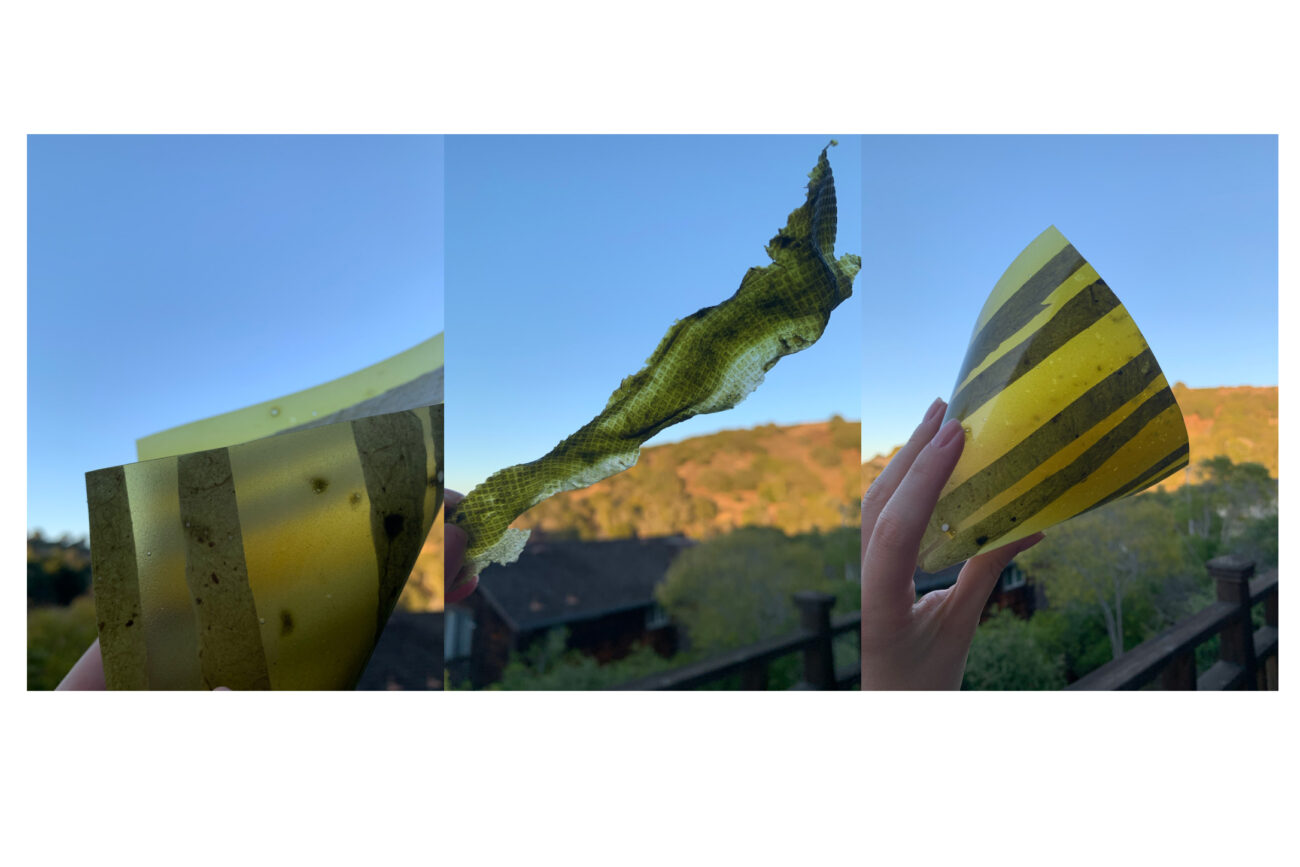 Vegan Home Designs Supported by College Course
Shannon Faltys loves choosing product colors, textures and more as a way to connect with consumers. It's why the design student signed up for a class that teaches tomorrow's professionals skills they'd need for creating vegan home and clothing items.
Students at the Art Center College of Design studied manufacturing practices and environmental impacts in the recent course called Wearables: Material Futures. They also crafted several projects themselves, including the "bioplastic" above made from gelatin, algae, and glycerin.
"I don't think I would be aware of the product materials lifecycle otherwise," Faltys said of the class that ended last month. "We learned the reasons behind why we choose materials, and how we can impact the world."
The course, created by instructor Kristine Upesleja, will be offered again later this month to a new group of students at the Pasadena, California, campus.
"The most exciting thing for me is to create new materials and experiment," said Upesleja who also founded the Innovative Materials Collection at the Fashion Institute of Design and Merchandising. "That's what students love about this class: they can experiment and also fail if the material or a certain composition is not working out."
Faltys has interned at Volkswagen and Logitech while working towards her bachelor's degree. In that time, she was encouraged to learn that both companies incorporate environmentally friendly products such as vegan leather.
"I'm excited that they're open to sustainable materials," said Faltys, who will graduate next spring.
But change and innovation in the corporate world require a lot of testing, especially with cars, she said, and that takes time, years in fact.
Some of the items she and her classmates used for assignments will not be leveraged for a car seat or stereo speaker cover any time soon, but oh how they learned to take creative risks!
For example, one lesson was on sewing with SCOBY, a vegan leather that is a byproduct of kombucha tea that gets gooey and starts dissolving when wet.
Another assignment tasked students with reusing trash, and Faltys' earrings made of mesh produce bags got a lot of positive feedback from experts during her final presentation.
For students like Faltys who are constantly striving to get it right in internships and coursework, it can be hard to find breathing room to innovate. This class with its non-commercial materials, plus its foundation on the environmental impact of traditional materials, was just the trick.
"What makes me happy is being able to connect with people through colors and materials, working to make that connection with people," said Faltys. "She encouraged us to make mistakes, to work with these kinds of materials, it's not going to be perfect. It's fun to be able to test and play. It changed my perspective, and I'm a little easier, a little more open to experimentation."