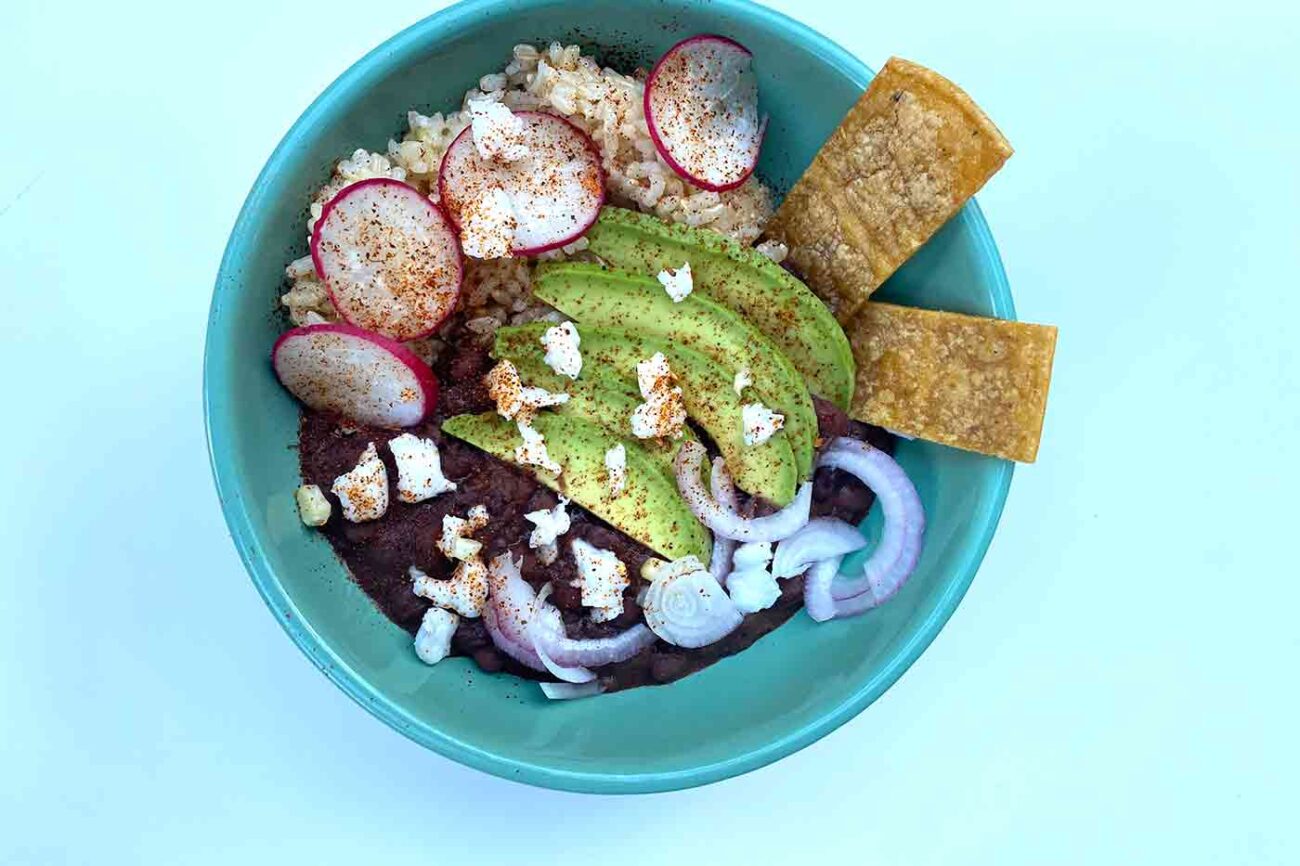 Vegan Burrito Bowl Recipe
Nothing sparks culinary creativity like a bean bowl, whether you have an official vegan burrito bowl recipe or you're just winging it.
After all, there are no borders. You've got beans, you've got a bowl, but just like a burrito—or a taco if that's your thing—what you make of it is nobody's business but your own.
It is so freeing, and so open to delicious opportunity, and options.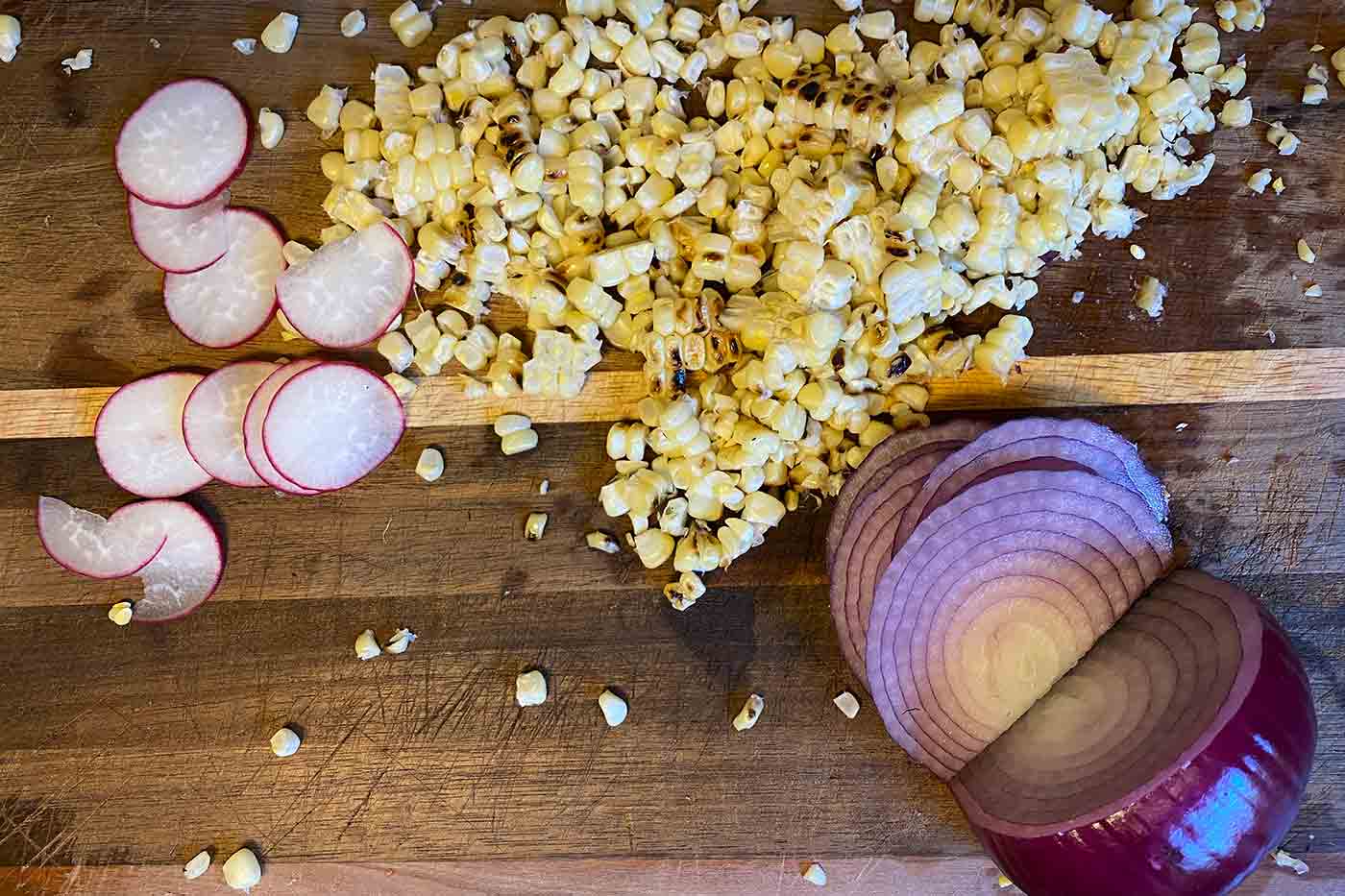 It is also so affordable to make a vegan burrito bowl recipe, a vegan dish that bucks the reputation of vegan dishes. You can make it for pennies, with a bag of beans, a bag of rice and some veggies. Though it starts out in the commodities section of the supermarket, in the right hands, this creation can take on a flavor that will rival a steak.
I first heard of a vegan bean bowl as a gourmet meal option from who else but the Gourmet Today cookbook, purchased just as I was going vegetarian and, just as longtime Gourmet Magazine was shuttered for good. Alas.
I was so very surprised that a 50-year-old cooking magazine had so many great ideas for someone like me eager to embark on a modern diet and so confused about what would taste good. Many years later, I still count this as one of my favorites.
After all, these ladies got me started cooking beans with wine, balsamic vinegar and soy sauce for a sophisticated flavor that I think is an excellent substitute for meat. I add my own favorite flavors from there.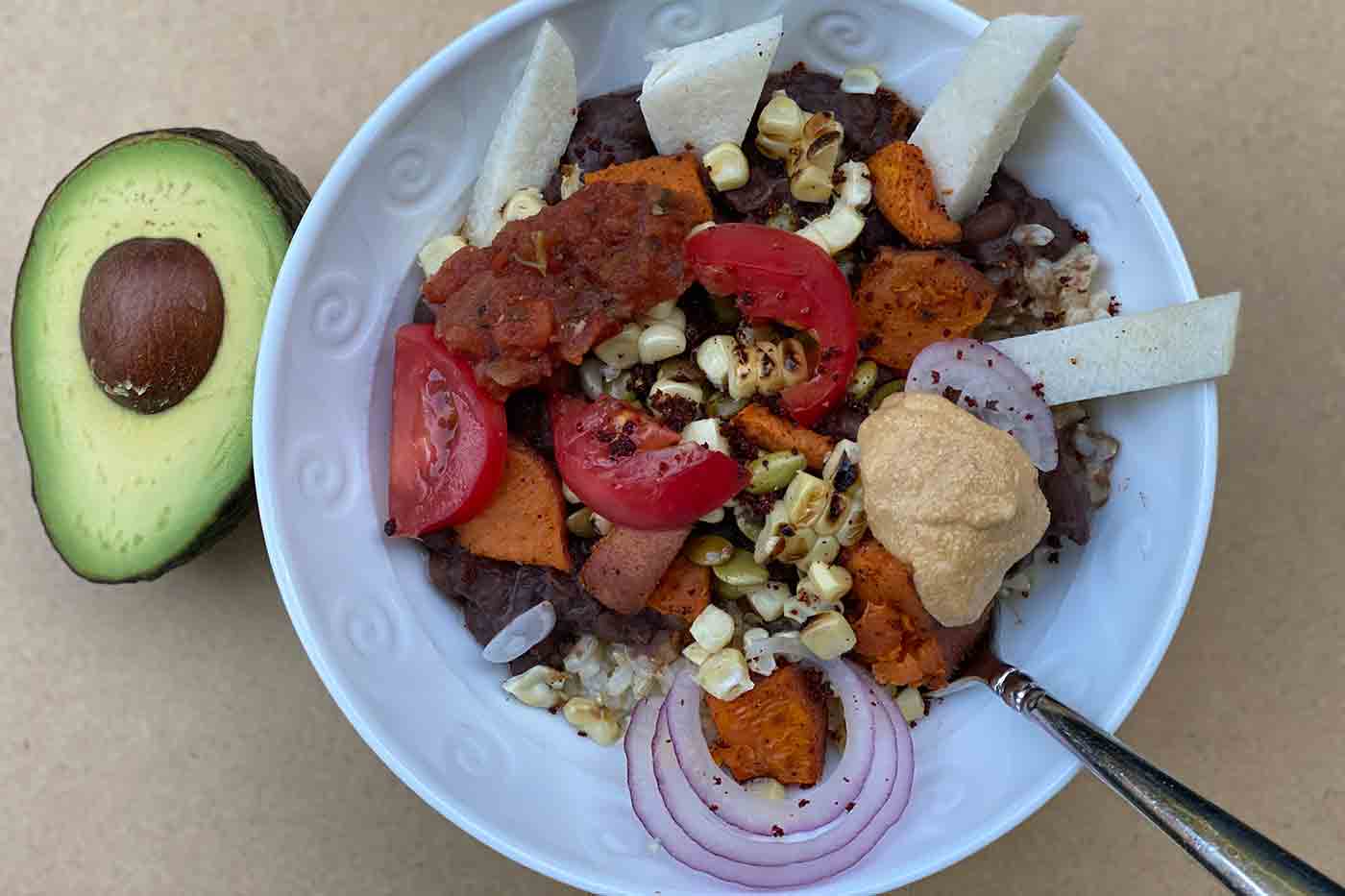 These days I am always ready for a bean bowl because I make my own easy boozy beans that freeze and store and use as a base for so many other dishes.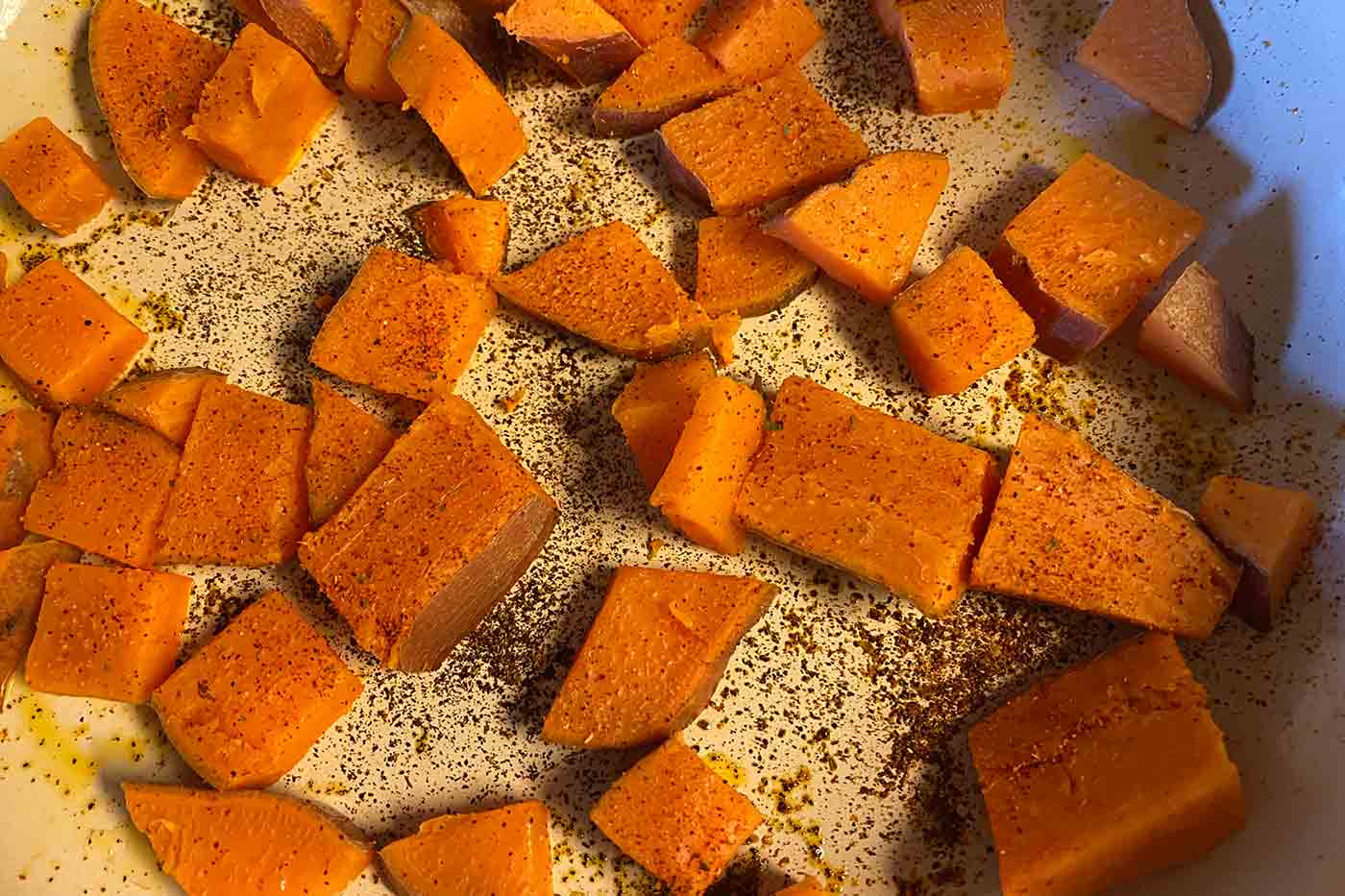 Vegan Burrito Bowl Recipe
A vegan bean bowl recipe that is easy to make but is rich with flavor like meat and that offers colorful variety and options to customize with your favorite veggies. It can be pared down and simplified or piled on for a heartier flavor. It can cost pennies or much more with gourmet ingredients.
Ingredients
3

cups

Fresh cooked black beans or 1 can black beans

2.5

cups

Cooked brown rice

1

Avocado

1

ear

Grilled corn, cut off the cob

1

cup

Cubed jicama

2

tbsp

Vegan feta cheese such as from Violife to sub for Cotija cheese

1

Radish, thinly sliced

2

tbsp

Sliced pickled jalipeÑo or other favorite peppers to taste

4

tbsp

Thinly slicked red onion

2

tbsp

Pepitas grilled for 5 minutes on high in a bit of oil

1/4

cup

Tomatoes or more to taste

1/2

cup

Cubed sweet potato, parboiled for 10 minutes then grilled in Mexican spice seasoning for 10 minutes

2

tsp

Mexican spice seasoning or more for flavor

1

tbsp

Hot or mild fresh salsa, depending on preference

2

tbsp

Cilantro

2

Corn tortillas (optional)

Olive oil

Salt

Pepper
Instructions
Heat oven to 400 degrees. Cut the tortillas (optional) into strips or triangles. Brush lightly with olive oil, sprinkle with salt. Bake for 10 minutes or until golden.

Heat the beans, mushing about a fifth of them and adding about a quarter cup of water for a rich, soupy texture.

Put rice at the bottom of two bowls. Top with beans and other ingredients. You can expand the recipe to serve a larger group. If so, consider creating a bean bar with toppings set out for people to choose and add themselves.

Enjoy!