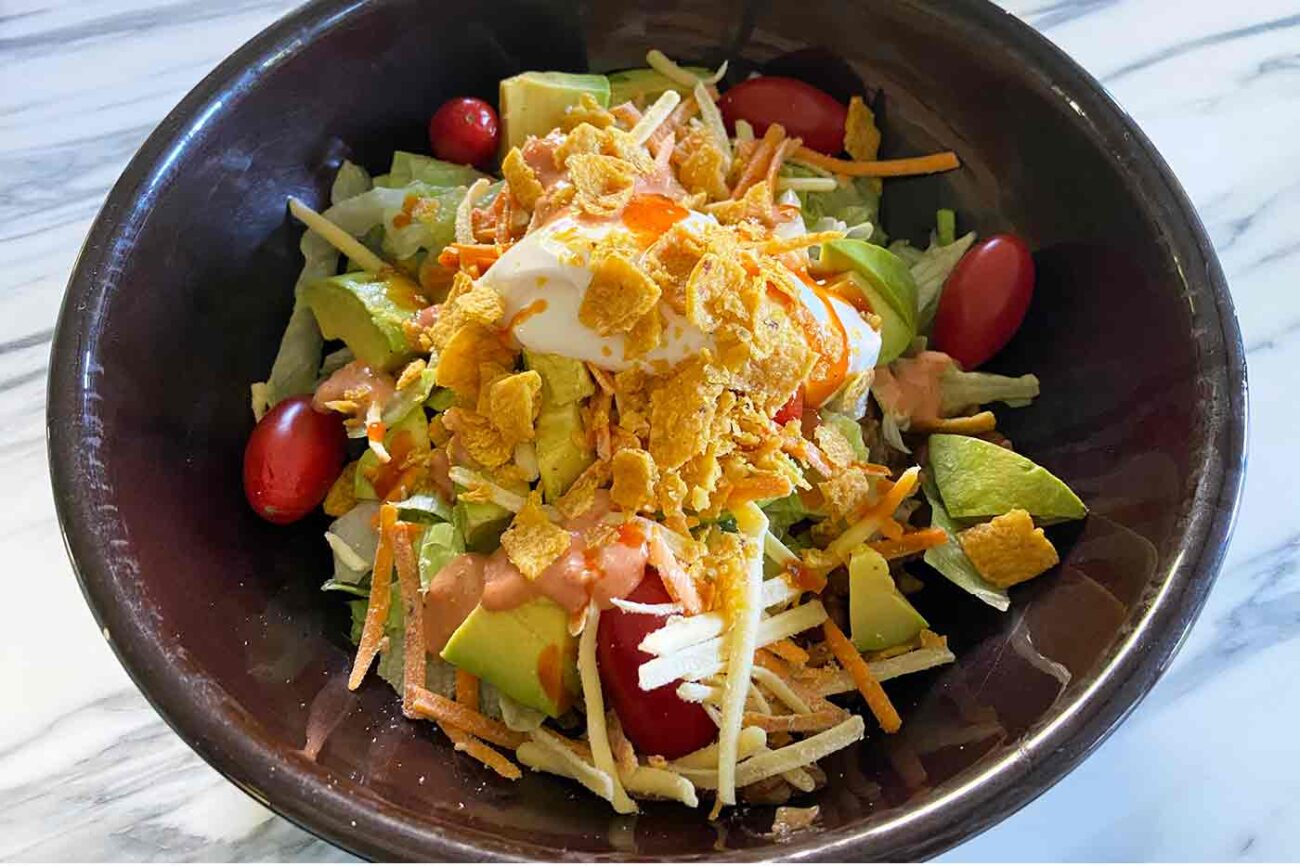 This vegan taco salad recipe mixes up a mid-century, suburban party in a bowl. You've got your iceberg lettuce, your chips and your ground beef—in this case a plant-based substitute. The flavor is the same, and so is the fun.
There are infinite ways to prepare and customize this dish. This one is tweaked from The New York Times and their take on a popular salad cup served at Casa de Fritos, formerly at Disneyland.
This meal in a bowl also addresses the question: what do vegans do for protein? With pinto beans and plant-based meat, the answer is, well, this.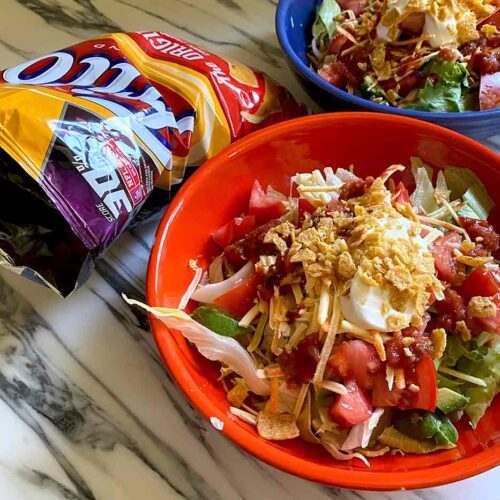 Vegan Taco Salad
This taco salad is fast and easy to make, and fun to eat. It is low in calories and is easy to customize depending on what you have on hand and your personal preferences. Made with ground beef, iceberg lettuce and corn chips it is a riff on Mexican American meals of childhood.
Ingredients
12

oz

vegan ground beef such as Impossible Burger (one package)

1

yellow onion, chopped

salt

2

tbsp

canola, grape or other neutral oil

3

tsp

cumin

3

tsp

dried oregano

3

tsp

chili powder

4

garlic cloves, finely chopped

1

can

(15.5-ounce) pinto beans, drained, ½cup bean liquid reserved

Corn chips, ideally Fritos

2

cups

grated vegan cheese, such as ChaoMexican Style Blend, or Cheddar

1

head

iceberg lettuce, chopped

1

large tomato, chopped

1

avocado, chopped

2

limes, cut into wedges or bottled lime juice

1/2

cub

vegan sour cream such as Kite Hill

hot sauce

salsa to taste (optional)
Instructions
Place oil in an iron pan on medium-high heat until it glistens.

Add vegan meat, and partially flatten in the pan, then sprinkle onions on top of the meat and add the spices. Let sear on one side, leaving pink on the reverse side. Wait until the meat is browned (about two minutes).

In the meantime, line four bowls with corn chips.

Once the meat is browned, sprinkle with spices, break into small pieces and stir. Add beans and bean liquid and reduce for about two minutes. Add salt to taste if needed.

Add the meat and bean mixture on top of the chips. Then top with the remaining ingredients, topping with a dollop of sour cream, salsa and hot sauce. Add lime to taste.