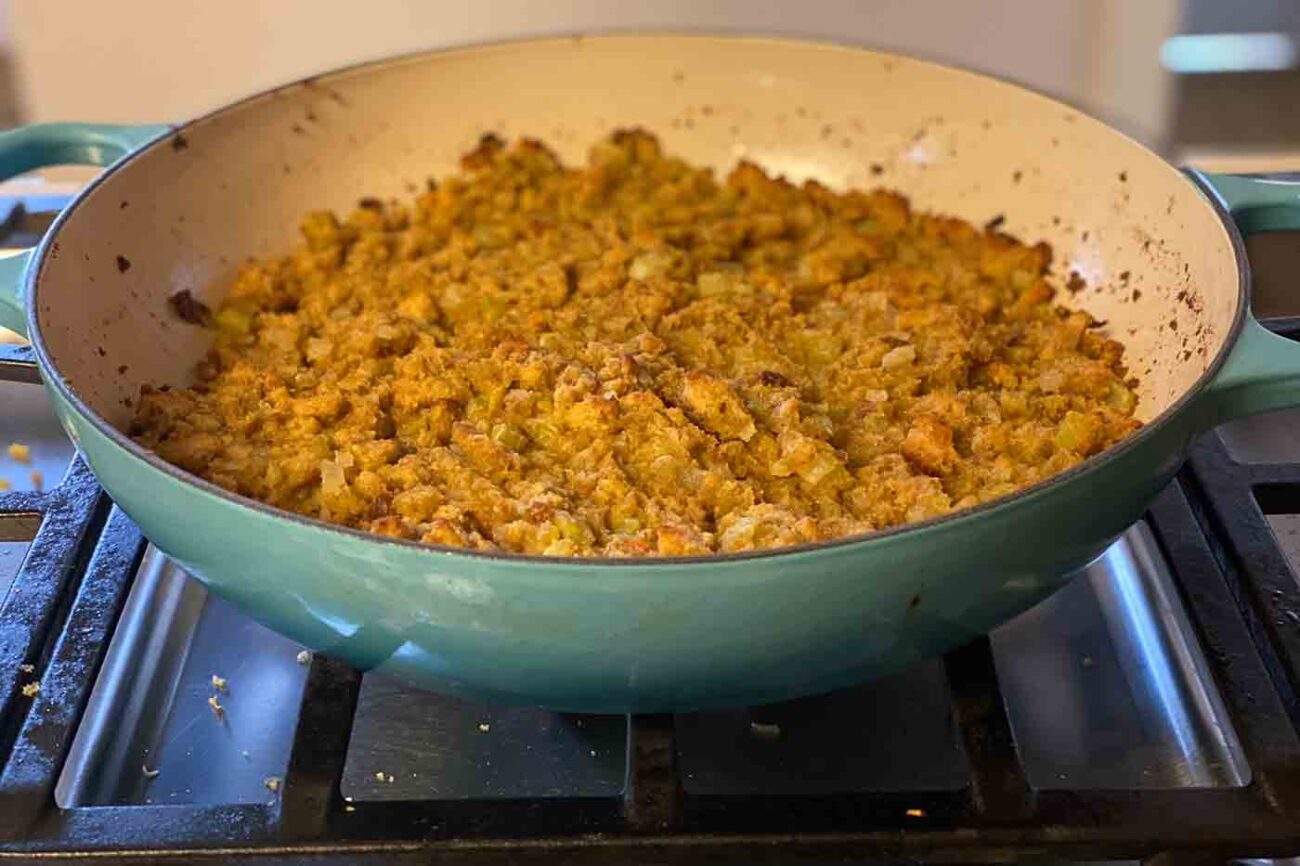 Easy Vegan Stuffing Recipe from Mrs. Cubbison's
For me, holiday meals have always centered on the sides. Forget turkey. Or roast. Even today, if I can eat the really good stuff, I am transported to a time without worry. It is easy to return with this vegan stuffing recipe using Mrs. Cubbison's cornbread mix.
I know we're supposed to strive for homemade, but with this box you are not compromising. Make this quick stuffing, and have time left over to make other recipes from scratch. And get tons of complements along the way.
Here are the basic instructions, with my substitutions to make it a vegan stuffing recipe.
As you may imagine, the first step in starting your side is procuring the right Mrs. Cubbison's cornbread stuffing mix. Then follow the instructions, using vegan butter, preferably Miyoko's European Style Cultured Vegan Butter, and vegetable broth.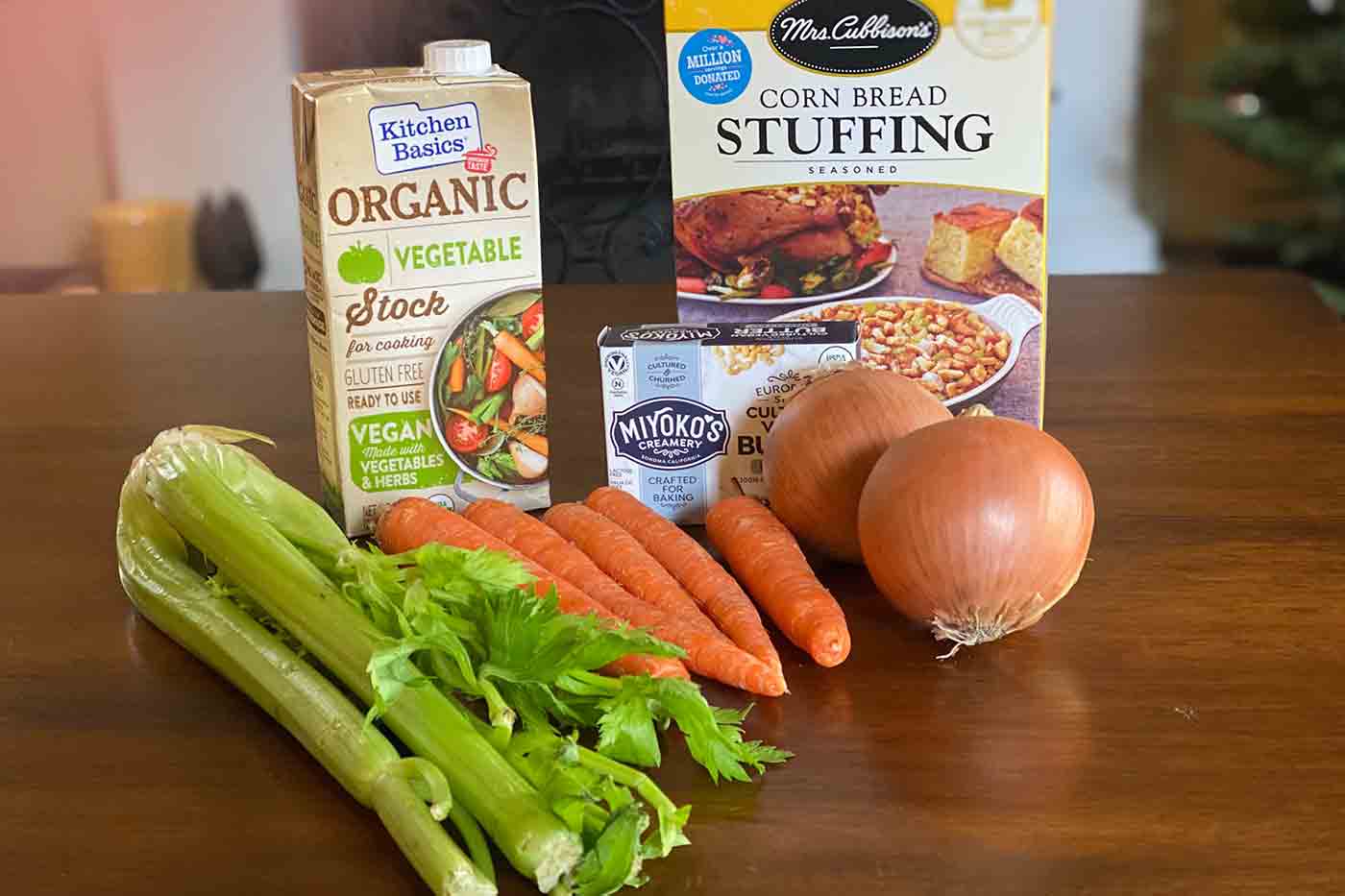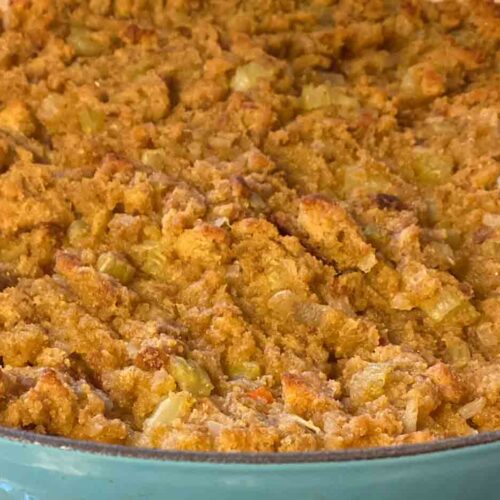 Vegan Stuffing with Cornbread from Mrs. Cubbison's
This is the best stuffing you can make. It just happens to be vegan. Oh, and did we mention it is also quick and easy. Enjoy!
Ingredients
1

box

Mrs. Cubbison's Corn Bread Stuffing

1

cup

vegan butter or margarine (ideally Miyoko's lightly salted)

1

cup

diced onion

1

cup

diced celery

1 3/4

cup

vegetable broth
Instructions
Preheat oven to 350 degrees Fahrenheit.

Oil a 9"x13" casserole dish, or use a braiser as pictured.

Ina large sauce pan or braiser melt butter on medium heat. Add vegetables andcook them in the oil until they are translucent. Then remove from heat.

Add stuffing mix and combine with the oil and vegetable mixture.

Then gradually add the broth, combining until evenly distributed.

Gently even out stuffing in a brasier so that it is at least 2 inches thick or move into a casserole dish. Cover with foil and bake for 35 minutes.

Remove foil cover then bake for another 15 minutes.

Serve right away or refrigerate overnight and reheat the next day.
I hope you enjoy your holidays with this vegan stuffing recipe. For more tips, consider our Christmas lima bean recipe.