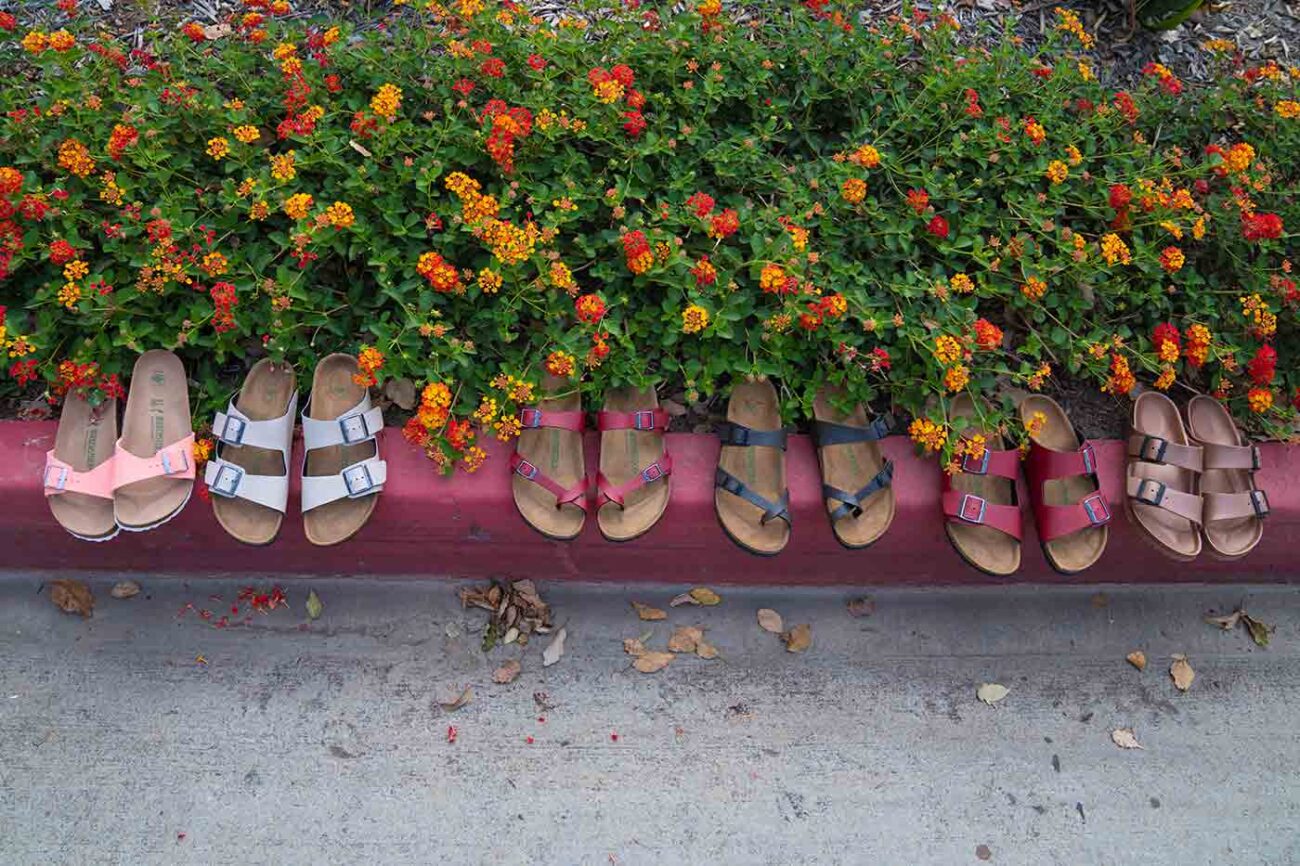 Vegan Birkenstock Sandals Are Fabulous in Faux Leather
Vegan Birkenstock sandals make me smile. Especially these days.
After all, these sunny shoes aren't just for tree huggers, or "hippies" anymore. Designers and a growing appreciation for chunky shoes have influenced their look and given them broader appeal.
In other words, the German comfort shoes have come a long way since they were first sold in the U.S. in 1966. Back in those days, only health food stores would take them. Other retailers considered the shoes too "ugly."
Nordstrom was the first department store to finally sell Birkenstocks, in 1986. The company added a leather-free, rubber version in 2015, and I have owned a pair in copper metallic for three years. They are cute and comfortable, the perfect beach-town shoe. Birkenstock added faux leather vegan shoes over three years ago.
Unlike regular Birkenstocks, which have a jute, cork and leather footbed, the company's vegan leather shoes are lined with polyester microfiber over jute and cork and are very similar. That's important, because the footbed is what fans consider one of the brands biggest selling points: great support for all-day comfort.
I had fun ordering several styles for this writeup and found they run true to size. I often wear a medium or narrow in size 10 or 10.5, and the medium/narrow footbed in 41, aka 10-10.5, fit perfect. The buckles made adjustments easy too.
Based on photos online, I thought I'd keep a red color called Bordeaux in the company's most iconic Arizona style. But when I tried them on, they made my big feet look even bigger.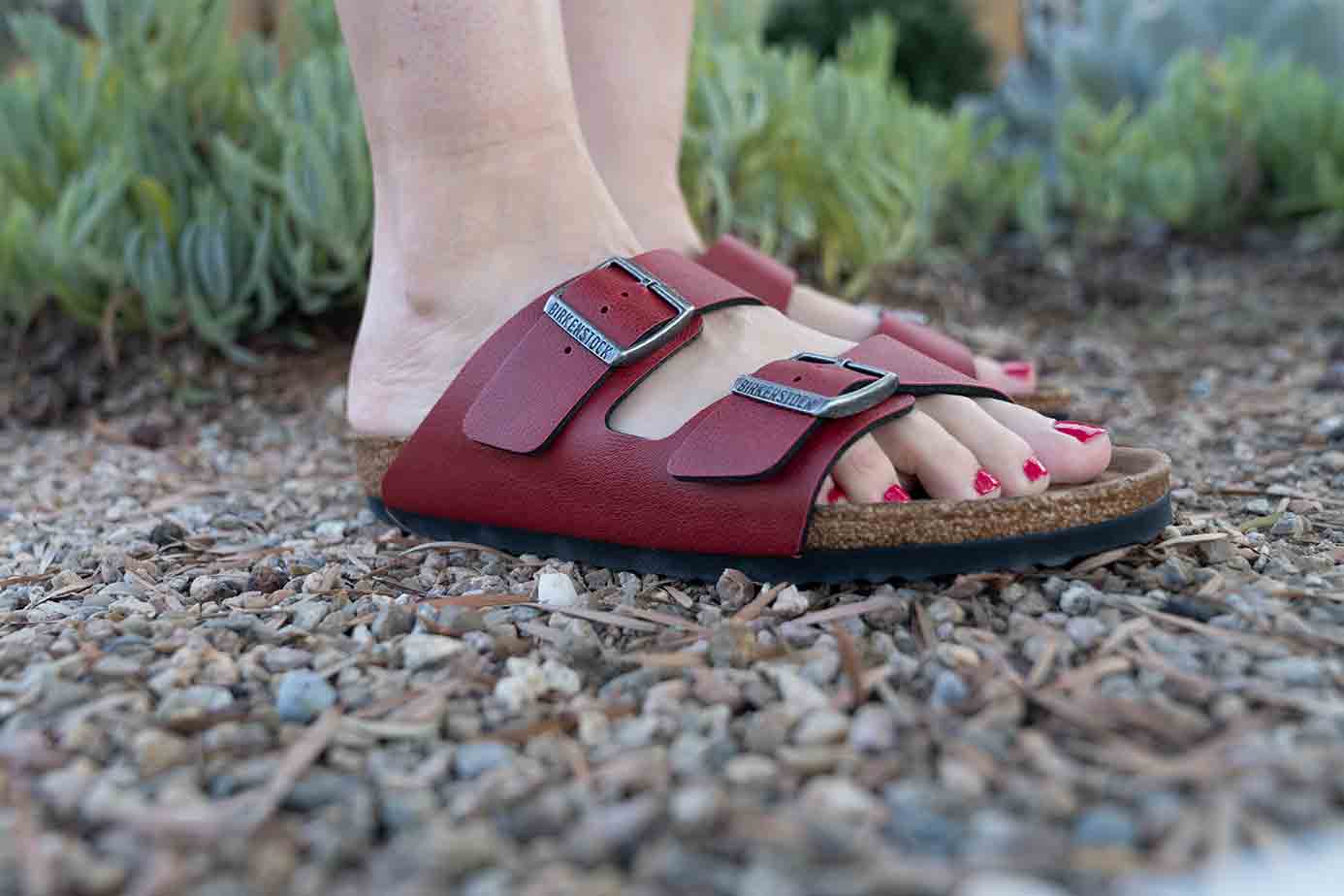 The platform Arizona style was even worse.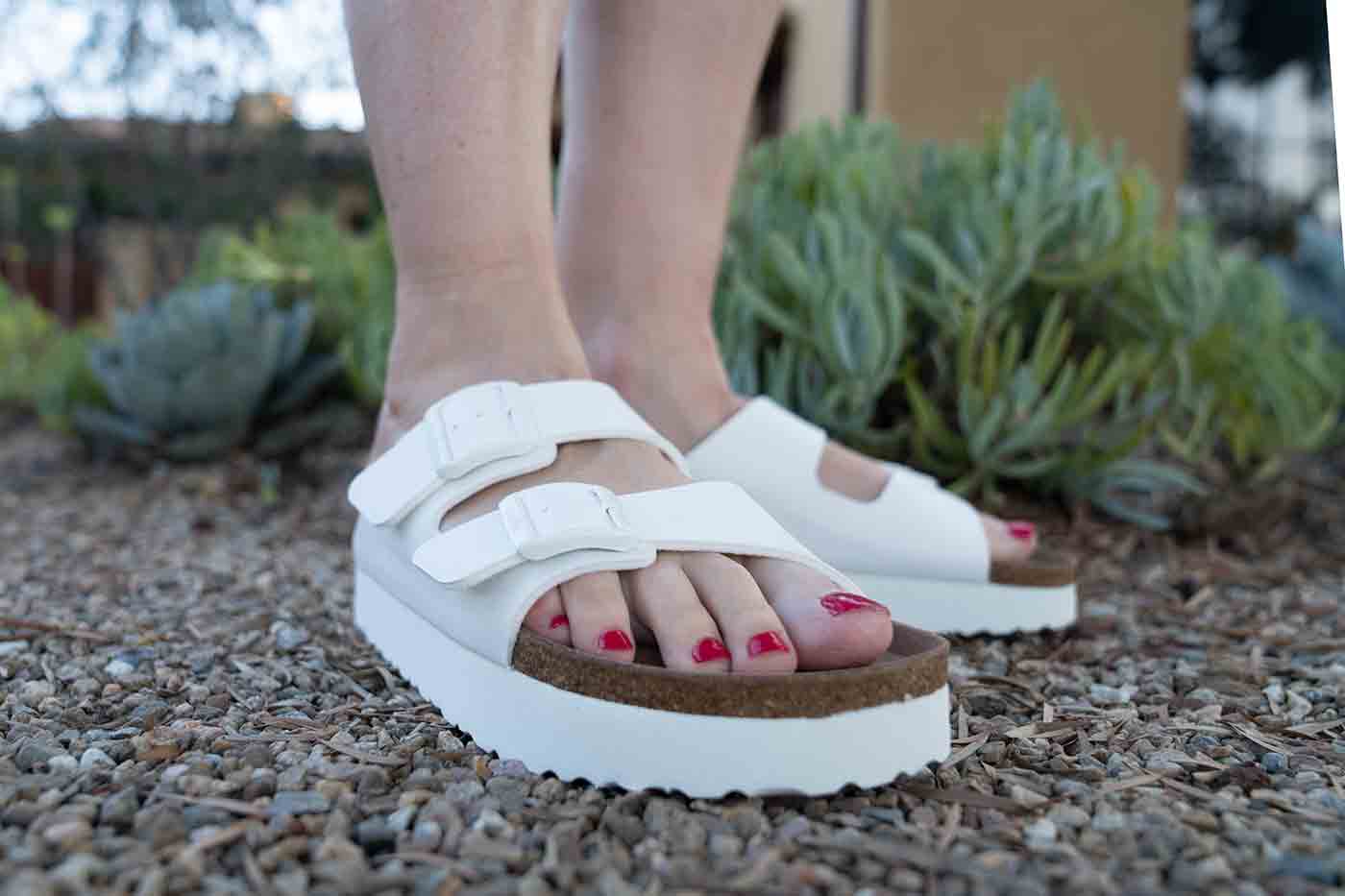 I opted for the Mayari instead, in anthracite, a metallic dark brown-grey color. Very elegant as Birkenstock sandals go.
Like many vegan Birkenstocks, the shoes I tried were made of the company's faux leather it calls Birko-Flor, a coated synthetic felt. Birkenstock also has Birkibuc, or synthetic nubuck. They are made of soft fabric to avoid chafing.
The company's vegan shoes come in its most popular styles and in several colors, with new options added regularly. I didn't want to spend on two pairs, but my second choice was their Madrid slip on, the first style introduced in the U.S. in the 1960's. Mine was in a flamingo pink faux leather (now on sale!).
Today on the site, there is a beautiful vegan light rose in a style I hadn't seen before called Yao, similar to the Mayari but without a toe strap. There's also a new vegan Arizona sandal in a fun navy floral print.
You have to be careful when you search for vegan shoes on the company's website. Its vegan shoe page doesn't include all vegan shoes, at least when I visited. You're better off searching for "vegan" on its site to see all the options (minus the rubber EVA Birkenstock shoes, which are a different page). And minus some additional seasonal styles that are made of fabric soles and uppers but aren't labeled vegan. I guess you would have to contact customer service to be sure.
You should also beware that some shoes made of vegan straps still have suede footbeds, I've noticed. None of these shoes I saw were labeled vegan, I was just confused for a moment searching on the larger website. Read the description, and you should be OK.
Even before it offered vegan shoes, the company's products have been evolving in ways that paved the way for current designs and widespread acclaim.
In the early 1990's, these granola kicks started gaining some street cred, under the heels of iconic fashion and entertainment personalities from Kate Moss to Gwyneth Paltrow, who sported some black Arizona models even this year.
Maybe it's also us who have changed, leaning into the "ugly shoe" trend and in the process perhaps deciding that chunky is cool and sexy even. Just look at Prada, Phillip Lim, Stella McCartney and many more. All make casual sandals that can be super chunky, fun and polished.
Birkenstock's more premium shoes have gone high end. The company offers higher end versions of its shoes, including a sleek custom styling of its premium Arizona sandals–black with a black sole and white buckles on the retailer Net-a-Porter for $420. The vegan version of the basic black Arizona is just under $100 on the Birkenstock site.
The company has also partnered with compapnies such as Valentino and Proenza Schoeler for designer Birkenstocks available on the company's site.
Many of these are not vegan. But just wait. The company says on its website that its vegan models are some of its most popular. So it's only a matter of time until that line is expanded.