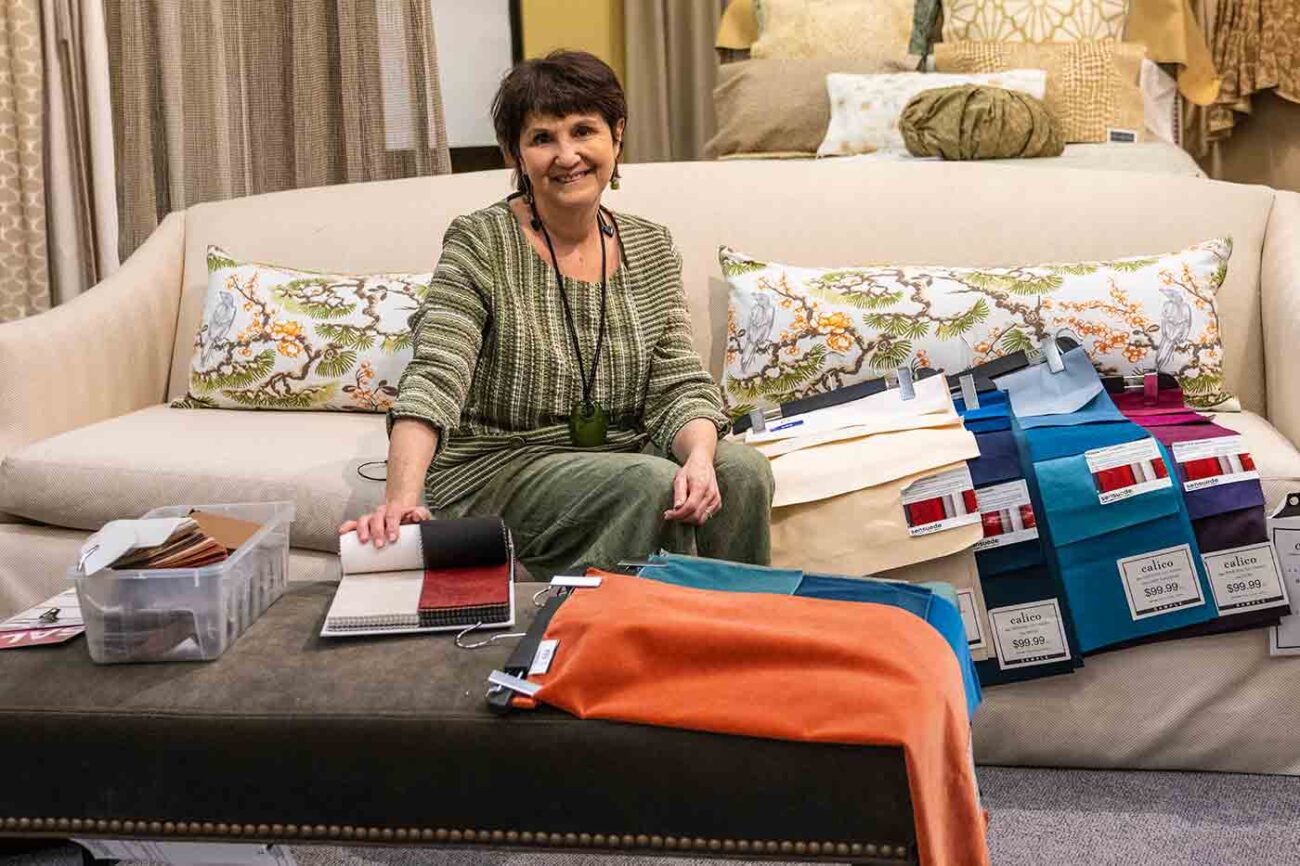 Reupholster Furniture with Faux Leather for Savings and Style
If you want to give new life to a vintage chair or couch, you can opt to reupholster it with faux leather or vegan suede. You can pay less and see it last longer if you do.
More people are giving faux a try, with demand for vegan leather and suede up 50% annually in recent years, according to a report from Infinium Global Research. It helps that the materials are getting better-looking than in the Mad Men days of shinny vinyl!
"I think a lot of people are into what's practical, what's going to hold up and be easier to clean," said Betsy Vega, Pasadena store manager of Calico Corners. The national home fabrics chain carries vegan leather as well as traditional animal leathers.
Vegan fabric is popular for its quality and lower price.
"I think it's more about holding up well with our kids, dogs and husbands," Vega said.
Like with other stores, customers choose what looks great and what experienced designers assure them wears best, she said.
Fortunately, vegan leather options today are superior to the faux suede options available when the company got its start more than 70 years ago!
"People are leaning more towards (vegan) performance fabric. It's going to withstand kids, pets, parties. It's fade resistant, stain resistant," Vega said.
Faux Suede Upholstery Fabric
Vegan suede upholstery fabric is often made of polyester microfiber, a fancier version of that stuff many of us use to clean and polish our cars. Like other microfiber, faux suede is woven of plastic. It is a fiber version of the same material in water bottles. In fact, recycled containers are often used to make faux suede, aka microfiber.
It's not a stretch, then, that vegan suede is more durable than real suede, that it is less likely to tear and is so much easier to clean. It's also cheaper.
Calico Corners sells a microfiber product called Sensuede, made from recycled polyester and recycled packaging. It is "buffed with fine sandpaper to create a soft, sensuous suede-like hand," according to the manufacturer, and "finished with stain-resistant, anti-static and water repellent agents."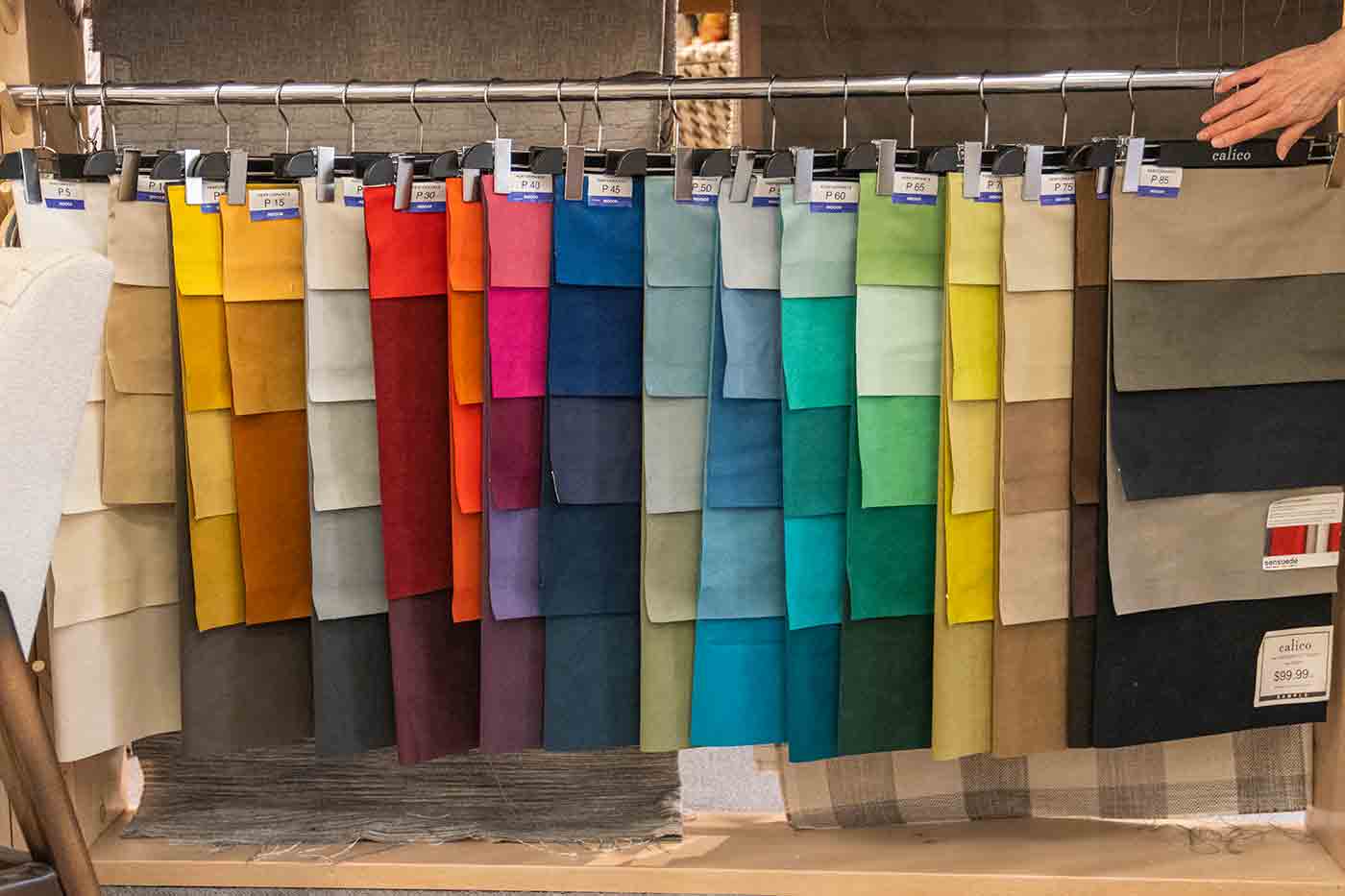 The material is one of Calico Design Consultant Karen Steinberg's favorites and goes for just under $100 a yard today.
"It upholsters so beautifully; it handles tufting and curves," said Steinberg, pictured above. "Any piece I've ever seen upholstered in this faux suede, it just looks gorgeous."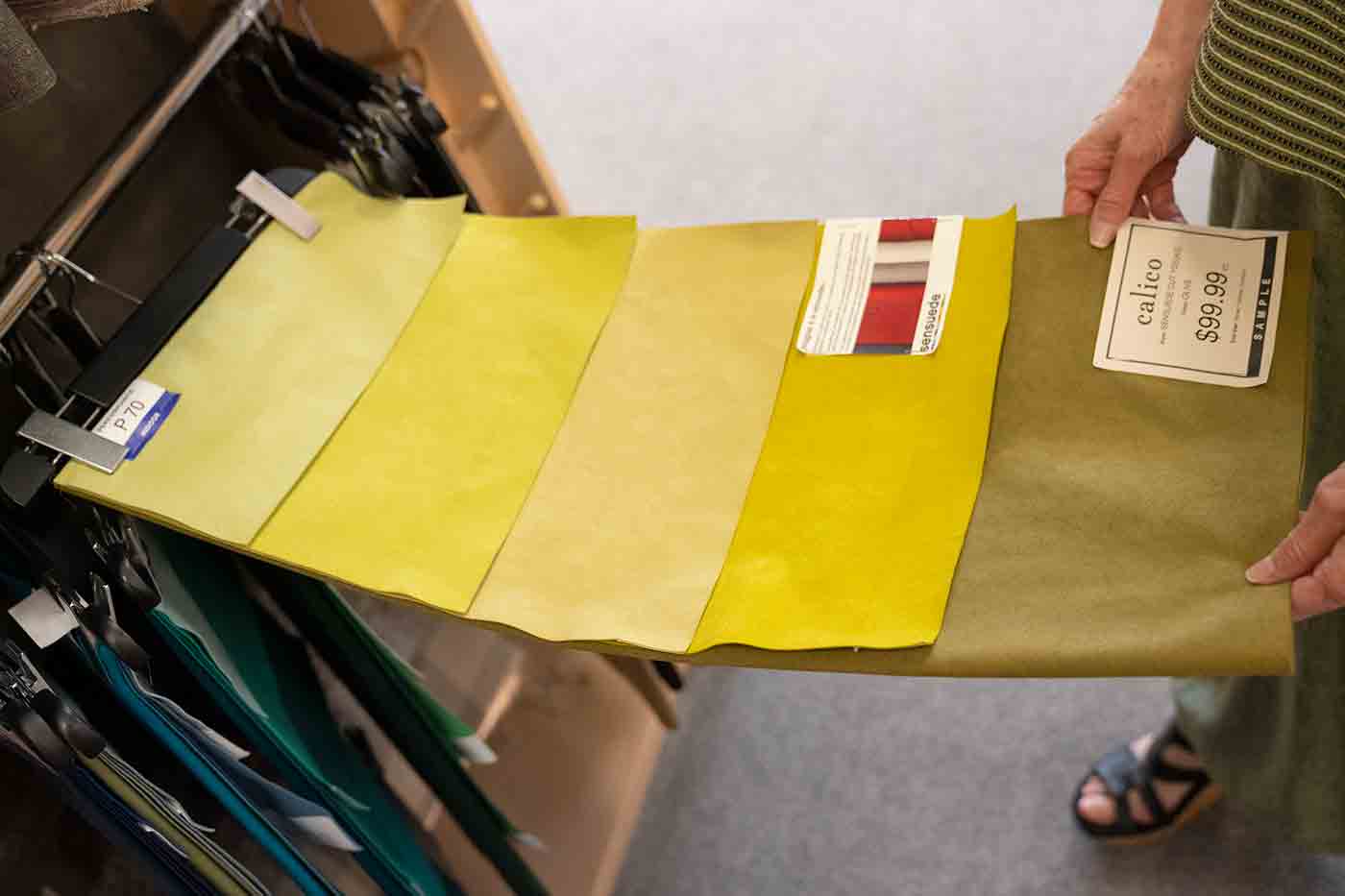 Steinberg has a bachelor's degree in textile design and worked as a fabric designer for years, so she should know. She eventually pivoted to a certification from the American Society of Interior Designers and a new career.
Like other consultants at the store, she gets to know decor clients well, offering expert advice based on their own spaces. She has a great story of a customer who chose to cover a sectional in white Sensuede. White. For her family room, with dogs and kids.
"That stuff I would use all day," she said. "Because it's "high performance," it's easy to clean."
Surely the finished product looked as good as the vegan white couch below, designed for the home of vegan No Doubt bassist Tony Kanal.
Stienberg's favorite faux suedes are still highly saturated colors. They don't fade, and the fabric takes bright colors very well, she said.
Faux Leather Upholstery Fabric
Not all faux leather is created equal. The high-end vegan leather sold at finer stores can perform better. To check, ask whether the fabric you are looking at has a "double-rub" rating. That's a durability standard used in the U.S. Translated literally, it lets consumers know how many times a fabric can be rubbed back and forth by a mechanical arm during testing.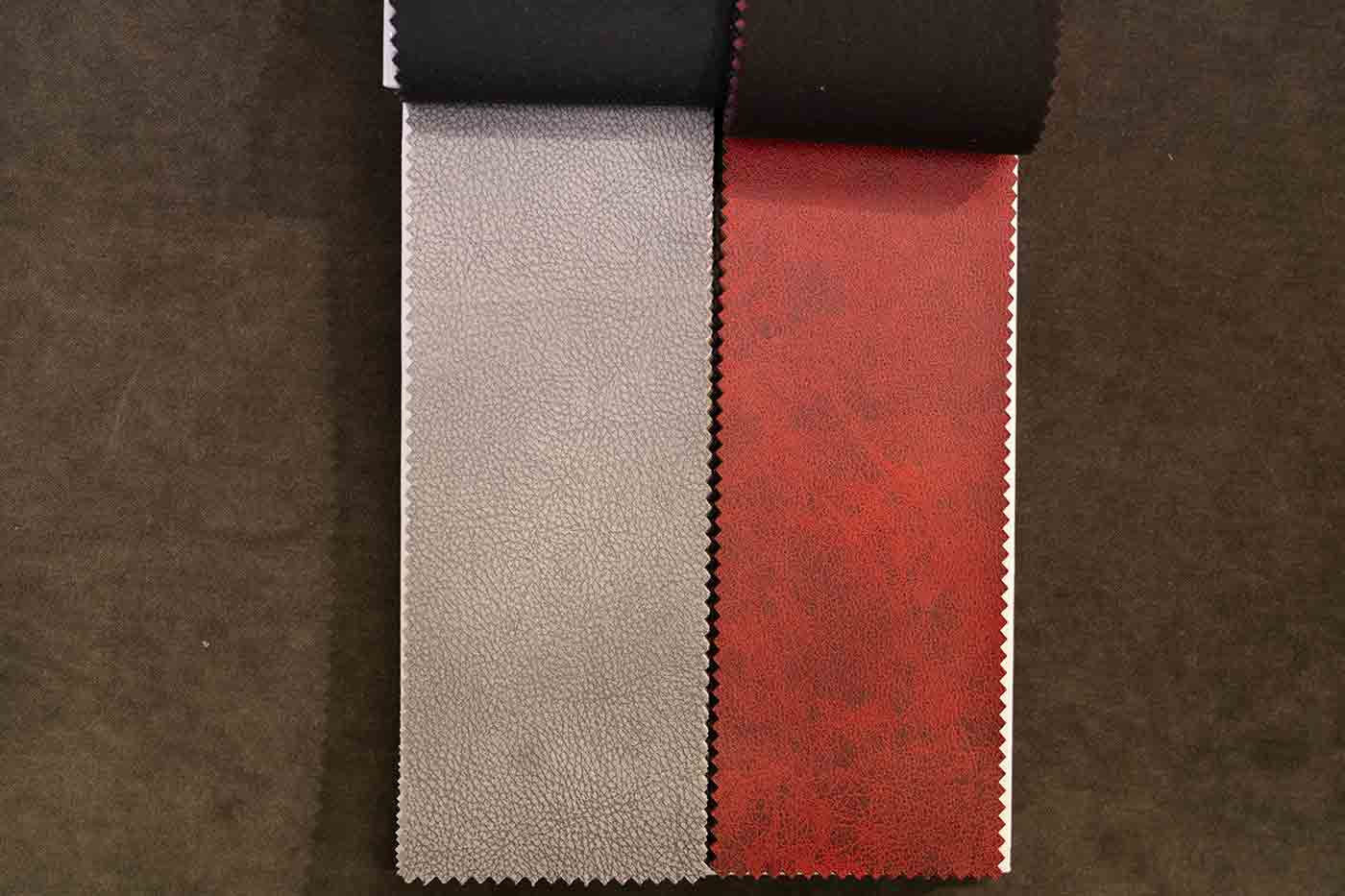 Anything above 15,000 rubs is considered "heavy duty." Checking some of the faux leathers I liked best when I hit the Calico Corners showroom, their faux leather has a rating of 30,000 rubs.
Their vegan leathers also come in so many colors from metallic to matte, and various textures from subtle to exotic. The store offers appointments during regular business hours if you want to check it out for yourself.
The price of vegan leather is also cheaper than animal skin, and it's easy to come by. Even the popular home store West Elm is selling vegan leather by the yard.
Some companies are offering vegan leather made from apples and pineapples, though it can be difficult to purchase by the yard, and it is not clear whether these new materials work well for upholstery.
Reupholstery Stuffing that's Vegan
Sure, you can stuff a couch with wool or feathers, but there are so many faux options that have worked well for years, from cotton to polyester fibers, and nowadays also memory foam. At Calico Corners and other custom outfits,
they'll sell you a couch, the fabric to go on it and do the customization in their own shop, or they'll refinish your vintage piece if you bring it in.
Of course you can buy the fabric on its own. If you do, you or your reupholster vendor will have to decide on a polyurethane foam, springs, polyester stuffing. Like fabrics, stuffing is rated for firmness and longevity.
Vegan Reupholstery Process
There are plenty of DIY videos and articles for upholstering your own furniture. If you check out a few reupholstering tips, you may notice that some urge people to tackle small projects like adding cushions to wooden dining chairs, while sending the bigger projects to the pros.
It is a ton of work to do a great job on a complicated piece, and you risk damaging or ruining your fabric. But if you have the will and the time and want to reupholster yourself, some determined do-it-yourselfers have signed up for a class to get expert guidance.
Steinberg has done a simple upholstery project to place fabric seat covers on dining room chairs, with help of a friend, but she wouldn't tackle a sofa or overstuffed chair.
"Unless you really have experience, serious upholstery projects, sofas or chairs, I think it's best to leave to an experienced upholsterer," she said.