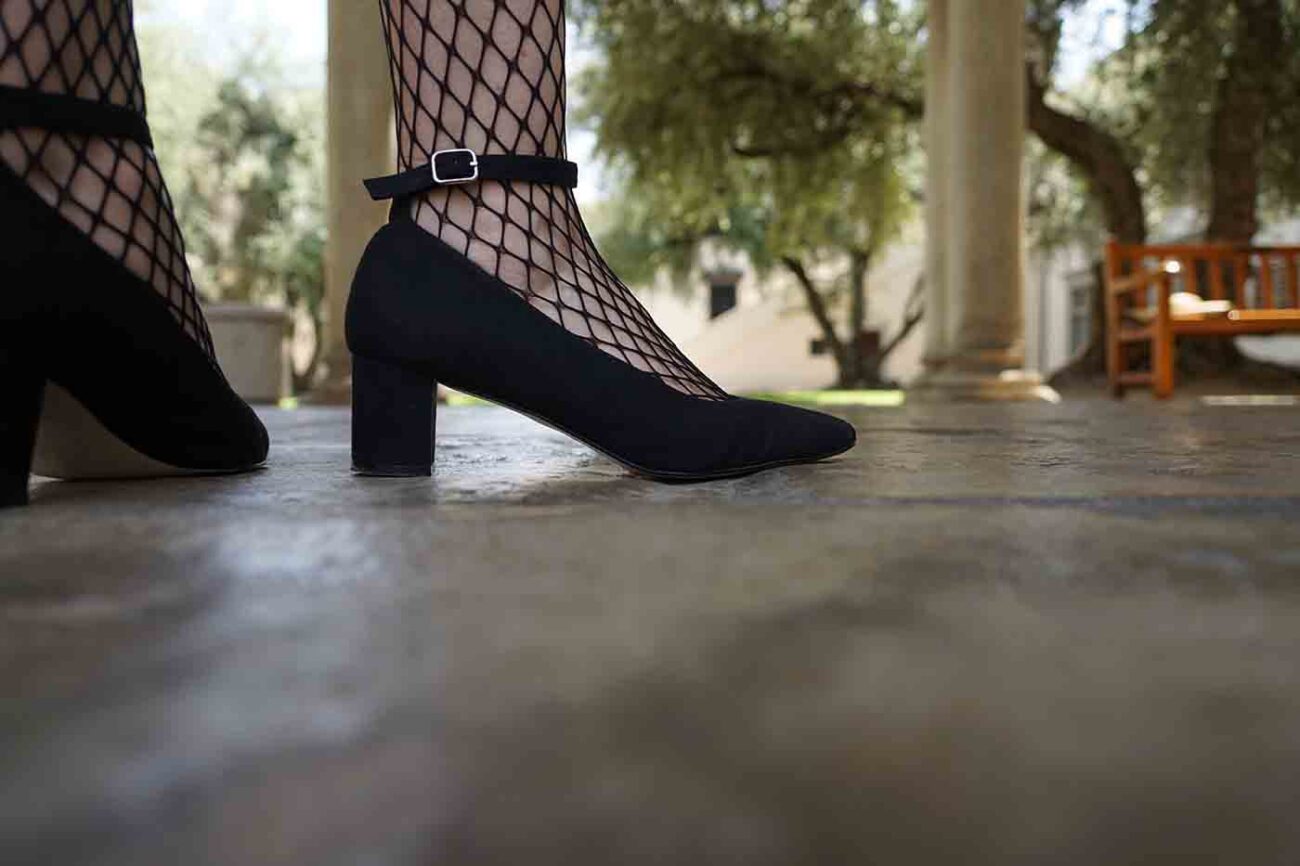 Beyond Skin Makes Vegan Shoes with Style
The British vegan shoe company Beyond Skin holds a certain mystique for me, and not just because of its glam styles.
I first heard of these vegan shoes a few years ago from a Hollywood casting director at lunch, and I never meet Hollywood casting directors, so it made an impression. She had been vegan for decades: "It's so much easier today!"
"Yes," I remember saying, "but what about finding stylish, comfortable vegan shoes? That's hard!"
"Well, there's Beyond Skin."
I did some research and learned there are others in "the biz" who wear luxury vegan shoes from Beyond Skin. And for good reason. The company currently carries everything from super cute slingback sandals in metallic gold, crayon yellow and more for $210 up to knee-high boots for $510. There are also seasonal sales to take the edge off of the cost for shoppers on a budget.
Beyond Skin Shoes are Made Better
If you can afford it, buying premium vegan shoes has an advantage over fast fashion, Beyond Skin founder Natalie Dean said in an interview. These kicks are often better looking and more comfortable than those from big-box stores labeled "manmade uppers." You can also be sure the shoes are truly vegan, thanks to a PETA certification.
"The quality of the materials is going to be vastly different," said Dean, who has been on a mission to educate consumers about high-end vegan leather.
Beyond Skin uses premium fabrics to make vegan shoes more wearable, such as breathable faux leathers from Italy that can stretch, and a faux suede called Dinamica®, polyester made from recycled plastic packaging. It's so high-end, Jaguar and Mercedes use this "fuede" for their car interiors.
All of the shoes are made in Spain, where workers have health care and other benefits and are paid a "fair" wage.
Dean explained that the Italian faux leathers she uses are finished like real skins, with intentionally mottled coloring. It's not real leather that dictates whether shoes look great, it's the work done to make and finish the materials and shape the shoes that counts, she said. In fact, these fabrics are better quality and as a raw material can be more expensive than some animal leathers, which can be processed in countries like India and other regions with looser environmental regulations.
Once she mentioned it, I could see the superior appearance of her faux leather, including in the Beyond Skin Lyra boots I had been coveting ever since I first saw them on Instagram. They were made with a soft matte finish.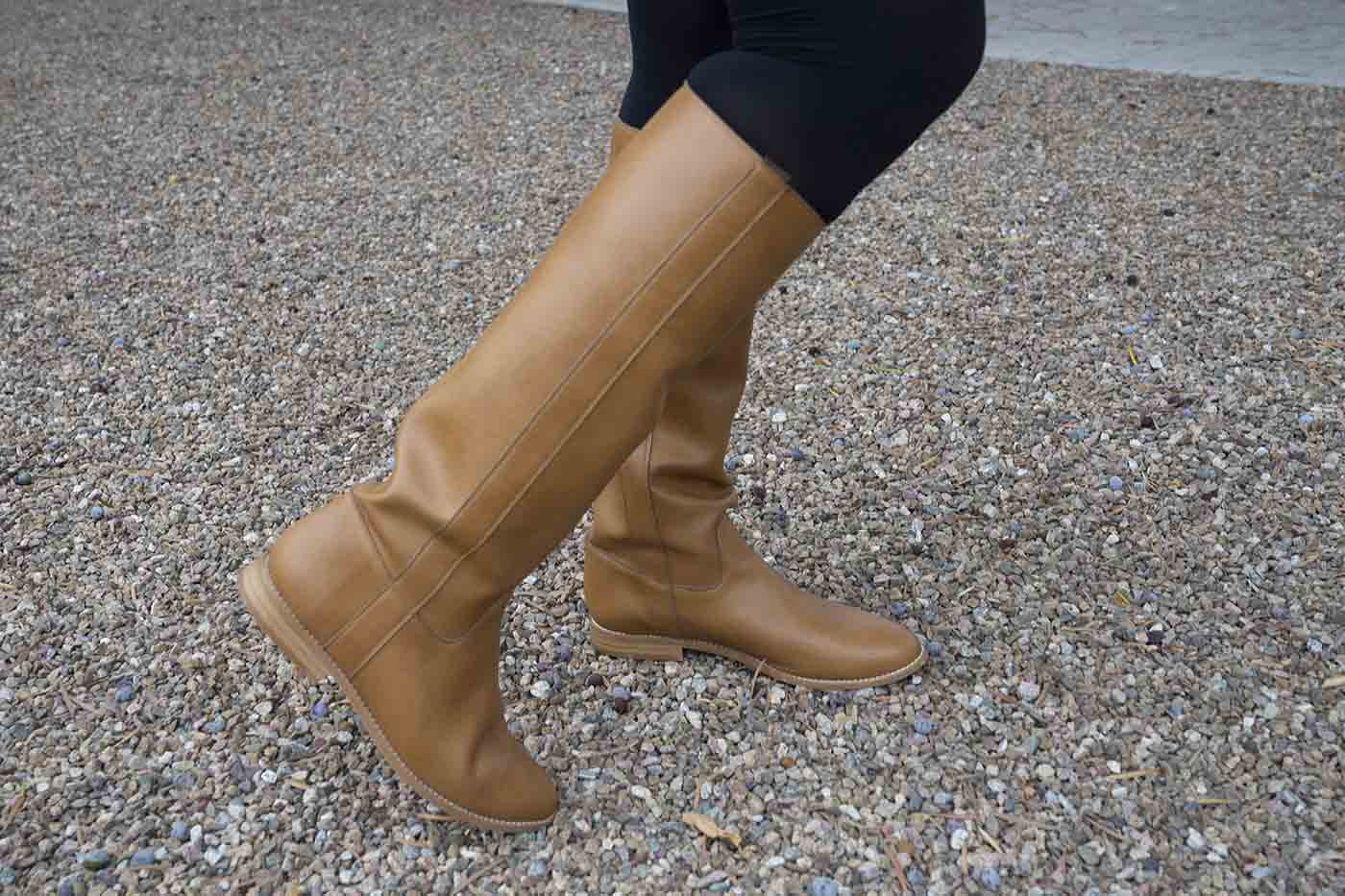 Beyond Skin Paves the Way for Animal-Friendly Fashion
Once you visit their website, you may decide that Beyond Skin, and founder Natalie Dean, is a kindred spirit if you too don't think choosing vegan should sentence you to a life without style.
The company was founded in 2001, the same year Stella McCartney launched her luxury vegan brand. At the time, Dean was working as a makeup artist in the fashion and music industries when she decided to go vegan, which for her included eliminating leather from her closets, including some very high-end heels, she says. The change was hard because at the time the shoe lover couldn't find heels she was excited to wear.
She set out to learn as much as she could about the shoe biz and started small. At first Beyond Skin, based south of London in Brighton, England, made custom shoes and then offered just six styles in two colors. The company has expanded from there to roughly 50 styles on the website today, in so many colors and fabrics!
It hasn't been an easy road with limited demand to start. News of the new company spread with help from animal lovers such as Chrissie Hynde, founding member the band The Pretenders. Natalie Portman also brought some publicity when she wore Beyond Skin shoes in her 2005 movie "V for Vendetta" as well as at the Oscars and Golden Globes. Anne Hathaway, Miley Cyrus and Evanna Lynch, the actress who played Luna Lovegood in the Harry Potter films, also helped the shoes gain a broader audience by wearing Beyond Skin.
How to Buy Beyond Skin Shoes
Unfortunately, Beyond Skin does not have any stores where you can try on, and the cost to return-ship items to the England is free only if you are exchanging for store credit or another size or style. But there is $25-$35 deducted for shipping if you are returning for a refund.
If you are very lucky, however, to find yourself in the neighborhood of their Brighton and Hove headquarters, you can email  [email protected] "with the styles, sizes and times that best suit you" to set an appointment to try on any shoes they have in stock at their headquarters, according to their website.
"We're open from Monday to Friday, from 10 a.m. until 4 p.m., and we do have dogs and babies in the office!"
But by the time I talked to Natalie, I had already tried some of their other shoes, including their suede Chelsea boot but was holding off on a pair of flat boots in a beautiful camel color.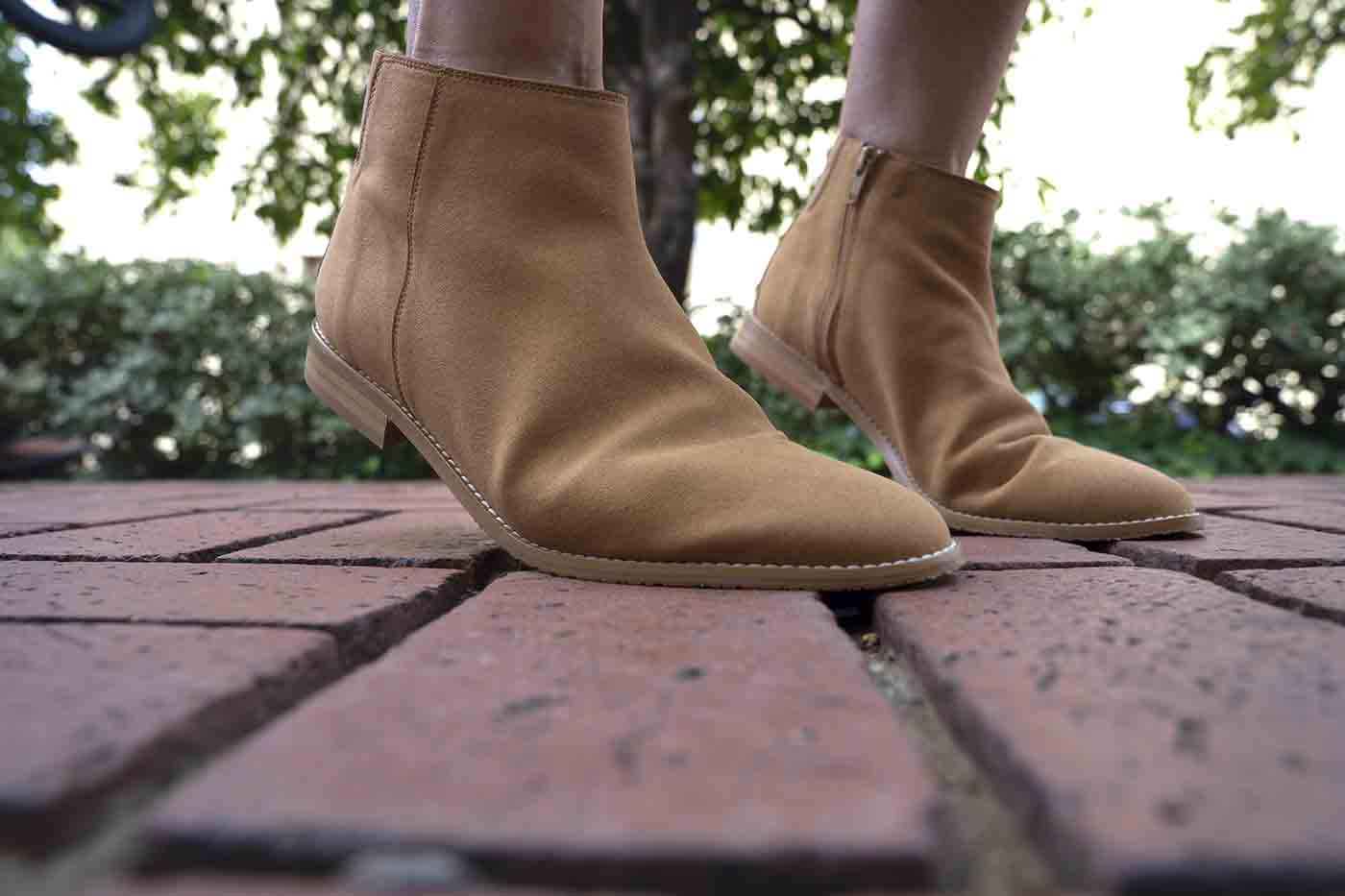 But finally I was ready to make my purchase!
I am technically a size 10 ½ and Beyond Skin styles only go up to size 10. Depending on the company, this can often work for me, but some shoes of theirs were too tight. I risked the boots because I loved the color and have experience with boots fitting more easily than heels. I took a huge risk, but it paid off, and the faux leather really is superior.
Like Dean I love shoes, and it has been such a relief to find more vegan options like Beyond Skin!
If you want to explore other options, Rothy's offers a rainbow of vegan shoes made of recycled bottles in stylish profiles.